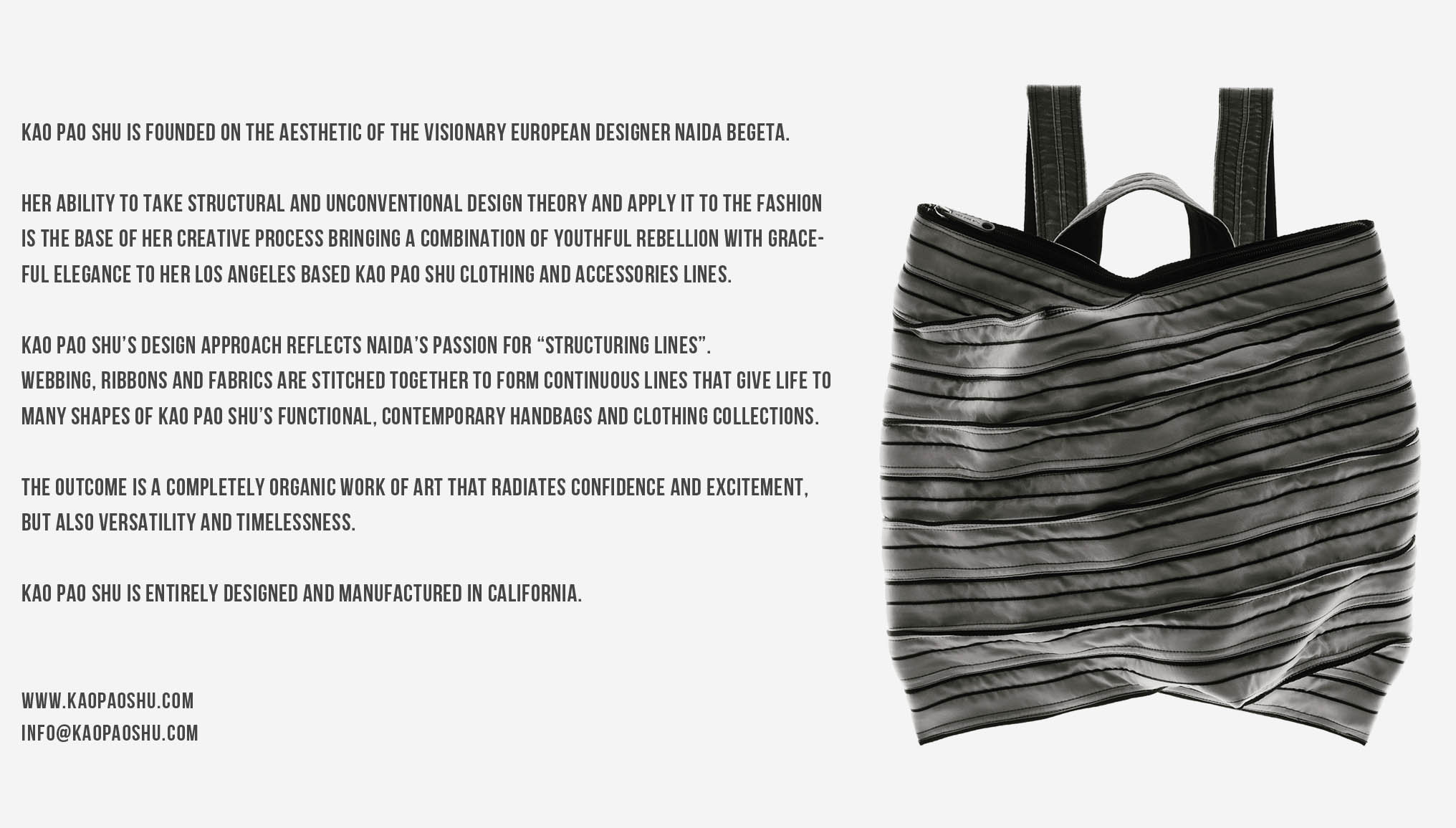 THE BRAND
Kao Pao Shu began in 2006 in Naida Begeta's hometown of Sarajevo and soon after relocated to the United States.
Kao Pao Shu is named after a 1960s Kung Fu films director-actress, who represents strength and longevity for women.
Today, Kao Pao Shu is an international brand devoted to nurturing its existing relationships while also building its customer base worldwide.
Kao Pao Shu is entirely manufactured in California.
THE DESIGNER
The visionary and creator behind Kao Pao Shu is Naida Begeta, who is originally from Sarajevo, Bosnia and Herzegovina.
In addition to her intrinsic abilities, Naida obtained a degree in Product Design from the University of Sarajevoa's Academy of Fine Art.
Naida's creative process involves taking structural and unconventional design theory and applying it to fashion,
bringing youthful rebellion and graceful elegance to her clothing and accessory lines.
Naida is involved in every piece of a collection, and her team is encouraged to be kind, innovative, and adventurous.
DNA
Kao Pao Shu designs are unique in concept, construction, and materials used.
The concept is based on sewing a continuous line to construct three-dimensional forms.
The base materials used include webbing and ribbons that are layered in a variety of combinations.
The final result is a statement piece that is unconventional, but also functional and stylish, as well as durable and timeless.
Kao Pao Shu builds a bridge between contemporary and design, while also blurring the line between refined and relaxed.
Kao Pao Shu converts the casual bag carrier into a believer that a bag should do more than just hold stuff; a bag can reflect personality,
attest to values, and give insight into one's identity.